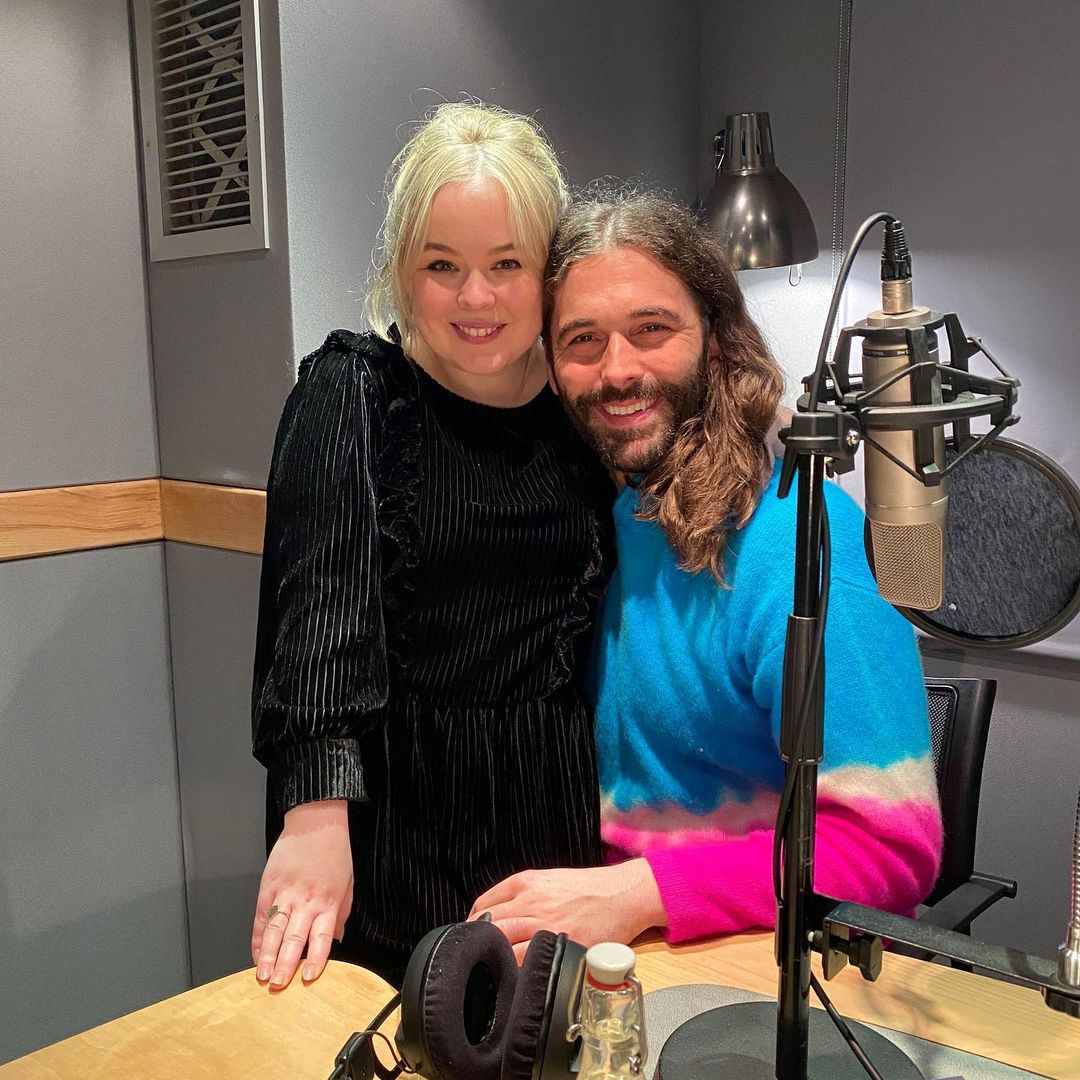 It's Pride month and many folks are coming out to claim their besties in public. This is the case for Queer Eye's Jonathan Van Ness and Bridgerton's Nicola Coughlan. Jonathan and Nicola told People that their meet-cute began when Nicola tagged Jonathan on Instagram in 2018 while wearing a sweater with his face on it. They have been thick as thieves every since. JVN and Nicola said that they were both fans of each other's work beforehand and met in person a year later. Since then, Jonathan stated that Nicola has helped him navigate his new found fame. Below are a few more highlights from People:
Before they became friends, the pair were fans of one another. He loved her work as Clare Devlin on Derry Girls, and she — like the rest of the world — was instantly enthralled by the benevolent, non-binary super-hairstylist on Queer Eye.

"Queer Eye had just come out, and I was like, 'I don't know who that person is, but I love that person,'" Coughlan, who was so taken with the new self-care guru that she got his face screen-printed on a sweatshirt, recalls to PEOPLE.

After Coughlan tagged Van Ness in a photo of the sweatshirt, the stars, both 34, became fast friends on Instagram in 2018.

"Our friendship really is just so special to me because Nicola's been in this industry for a minute, and I haven't, and there's just been so many times where I had questions and didn't know what to do, and needed feedback," Van Ness says. "She's helped me navigate all sorts of situations that I never thought I'd find myself in."

The duo finally met in person a year later when Coughlan visited New York City, where they went to see Harry Potter and the Cursed Child together on Broadway. During the play's intermission, Van Ness — who was working on his memoir at the time — told the Bridgerton actress that he wanted to publicly reveal his HIV diagnosis.

"A lot of folks in my orbit were like, 'Are you sure?' But Nicola has consistently been so supportive," Van Ness says. "We are consistently there for each other."

Adds Coughlan: "It felt like we had met before. It just felt like we'd been friends forever. Then our friend groups just sort of melded together."
[From People]
I absolutely love these two. I haven't seen Derry Girls yet but I have been loving Nicola from Bridgerton and the Great British Bake Off. I have also been following her on Twitter and she is the sweetest person. And Jonathan is my second favorite Queer Eye guy as Tan and I need to be besties. I have met several of my besties online as well and they have been some of the best friendships. I still haven't met several IRL yet and some it took damn near a decade before we did. I am so loving that Nicola and Jonathan are besties and it is so cute how they met. hope to see a full collabo between these two. The only thing that has come close is their attending the Elton John Oscar Party together last year. Perhaps Nicola can be a guest on Queer Eye and Jonathan can do a cameo on Bridgerton. The possibilities are endless. Also Tan call me.
— Nicola Coughlan (@nicolacoughlan) June 17, 2018
https://www.instagram.com/p/COHdGe2AhMO/
A post shared by Nicola Coughlan (@nicolacoughlan)
https://www.instagram.com/p/CM8aOwzAq88/
A post shared by Nicola Coughlan (@nicolacoughlan)
https://www.instagram.com/p/CJbIhDPgOQH/
A post shared by Nicola Coughlan (@nicolacoughlan)
photos via Instagram
Source: Read Full Article