Before missing most of the last season with a serious leg injury, Victor Oladipo had established himself as one of the most talented point guards in the NBA. Moreover, he exhibited a work ethic and dedication to self-improvement that few other players could match. The Indiana Pacers star will surely look to come back with a vengeance once play starts up again following the coronavirus pandemic.
In the meantime, Oladipo has found himself with plenty of time to dedicate to one of his other passions: singing. If you didn't realize that Oladipo was a crooner, don't worry. Here we investigate Oladipo's singing career, and his recent IG live concert, while also taking a look at what some other NBA stars are doing with their abundant free time in quarantine.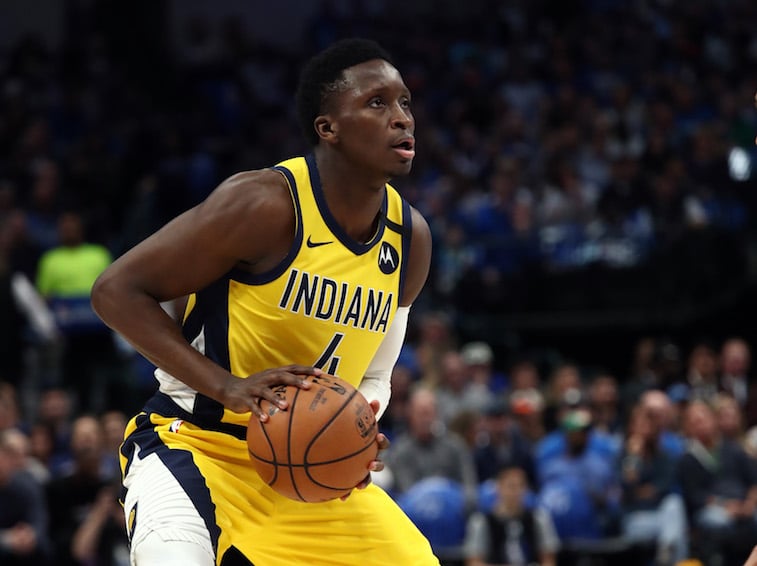 Victor Oladipo's singing career
To most people, Oladipo's basketball career comes first, and his singing career a far distant second. Yet Oladipo has been pursuing both passions since his earliest years.
As young as 7 or 8, Oladipo was actively singing at his family's church. Since then, he's never really stopped. In 2011, while still a college basketball star at Indiana University Bloomington, Oladipo delivered a surprisingly competent rendition of Usher's "U Got It Bad."
Oladipo also sang "New York, New York" at the 2015 NBA All-Star Dunk contest. Then in 2017, Oladipo was caught singing R. Kelly's "I Believe I Can Fly," as part of a talent contest at a water park in Florida. Things got a bit more serious later that year, when Oladipo released his first record, an EP entitled Songs for You.
That EP featured Oladipo's excellent cover of the Donny Hathaway classic "A Song for You." Oladipo followed that up in 2018 with his first full-length album, V.O. Fans and music critics alike responded to the enthusiastically, calling the record "rock-solid," and praising Oladipo's strong musical chops.
Finally, and most famously, Oladipo's singing career earned him a spot in the second season of "The Masked Singer." Oladipo performed in an absurd costume, calling himself Thingamajig. He was finally unmasked during the semifinal round, earning massive amounts of shock and praise from the judges, audience, and no doubt fans around the world.
Victor Oladipo's IG live concert
Oladipo has spent a lot of his time in quarantine continuing to work out and rehab his injury. But he's also managed to devote plenty of time to singing as well. At the end of March, he even performed a live concert in the NBA's own Instagram account. The Songs4U concert went for around 40 minutes, and included guests such as Eric Bellinger and Lil Mosey.
What other NBA stars are doing during quarantine
The interesting thing about the coronavirus pandemic is that it has erased many of the distinctions that normally exist between sports stars and everyday people. No matter how rich or famous an NBA player may be, they still have no choice but to spend their days sitting around the house, in most cases passing their time in very similar ways to other people.
Binge-watching seems to be a common thread, with Portland Trailblazers star (and talented rapper) Damian Lillard confessing that he watched the entire Season 3 of Netflix show Ozark in one sitting. Washington Wizards star Bradley Beal and lots of players have been passing the time playing video games.
Other players are taking a more proactive approach to their newfound free time. Denver Nuggets guard Jamal Murray has been working on his piano playing skills. Milwaukee Bucks forward Giannis Antetokounmpo has tackled learning the guitar, although he clearly has a long way to go before he reaches six string superstar status.
Source: Read Full Article