Courteney Cox is, without a doubt, one of the most successful main cast members of "Friends" to emerge from the show's 10-season run, which ended in 2004. Afterward, Cox bounced between numerous television appearances, including her own (short-lived) FX vehicle "Dirt" in 2009, before landing her major follow-up, ABC's cheekily funny "Cougar Town." Receiving a Golden Globe as well as Critics' Choice TV Award nomination, per IMDb, for her leading role as divorcee Jules Cobb over the show's six seasons, Cox made her way back into dinner table conversations in American households everywhere again. (After all, you've made it — or stayed it, in Cox's case — when Buzzfeed does a "Which 'Cougar Town' character Are You?" quiz about your show.)
Having left two indelible marks on the landscape of American sitcoms, Cox remained in the pop culture zeitgeist when "Friends"' held its May 2021 reunion special on HBO Max. Gushing affectionately on May 6 to "The Ellen DeGeneres Show," Cox described her eager anticipation, saying, "It's an unscripted reunion and we got to be on Stage 24 for the first time with all of us in… 15 years? 17 years? It was great." 
The actor, however, per a June 23 interview on "The Howard Stern Show," revealed the one big regret she never got over from her 10-year series stint. Read on for what it is! 
Emmy snubs for 'Friends' hurt Courteney Cox's feelings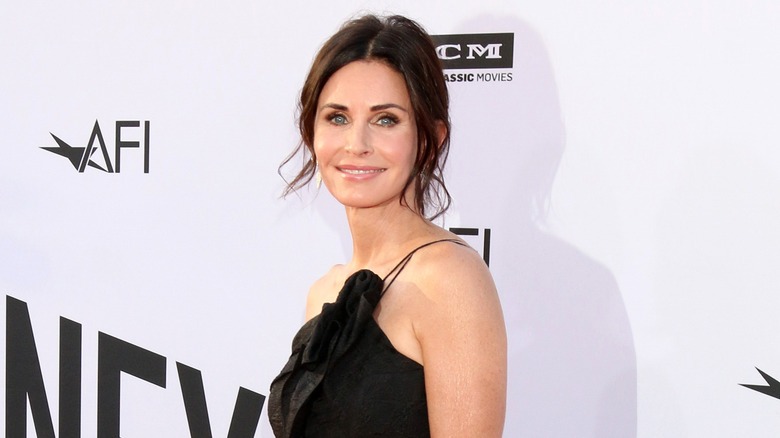 The Emmys were "the one that got away" for Courteney Cox. A People's Choice Award winner in 1995 and Screen Actors Guild Award in 1996 for "Friends," via the New York Post, Cox admitted to "The Howard Stern Show" on June 23, "It always hurt my feelings … when every single cast member was nominated but me," regarding her lack of Emmy recognition for portraying Monica Geller. Cox is ostensibly the odd one out — Matthew Perry, David Schwimmer, and Matt LeBlanc all received acting Emmy nominations over the years, while Jennifer Aniston and Lisa Kudrow won the golden trophy for Outstanding Lead Actress in a Comedy in 2002 and Outstanding Supporting Actress in a Comedy in 1998, respectively, per the outlet.
"I was happy for everybody, and then when it was finally like, 'Oh, I'm the only one?,'" Coz said, adding with candor, "The only thing that made me feel good… I got nominated for 'Cougar Town' the first year," in reference to her 2010 Golden Globe nomination.
Showing the pressures actors — even household names like Cox — face, Cox explained the statuette would have "meant everything" representing an industry validation of her comedic chops. "I wanted my peers to respect me," she said. While she acknowledged, "I know that the Golden Globes is not your peers," she confessed that "it took a little of the sting out" of her Emmy snubs.
Source: Read Full Article