Prince William and Kate Middleton might be royals, but they also love being parents. The couple shares three kids: Prince George, Princess Charlotte, and Prince Louis. And though it's certainly a handful, Kate and William have been doing their best to homeschool the kids amid the coronavirus pandemic. But Kate just admitted that she actually lied to her kids about their schooling.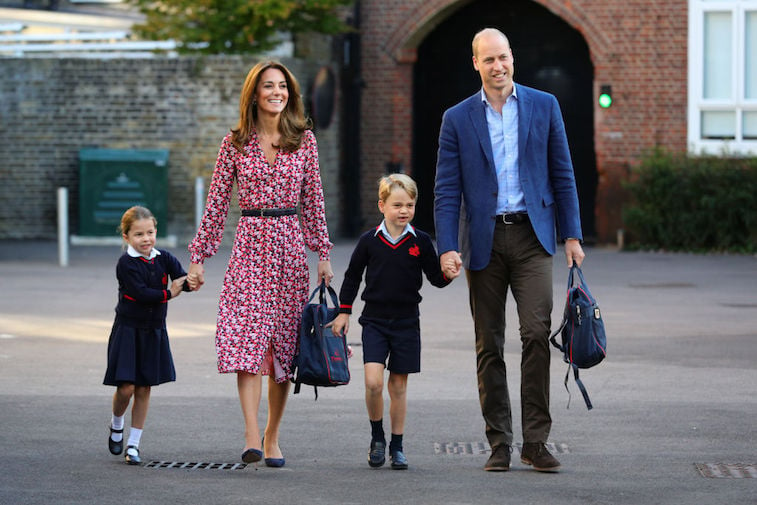 William and Kate are trying to give their kids a normal life
It's hard to deny that William and Kate are two of the world'smost famous people. But their kids are all under the age of seven, and the twoare trying to balance parenting with their royal duties. In 2019, William saidthat his main focus is on being a father and that he hadnot yet told George that he was third in line for the throne.
At this point, it's unclear if George is aware of his royal bloodline, but either way, Kate and William are focused on raising the kids with as private of lives as possible. They even drive the little ones to school every day (or they did prior to the pandemic) to keep a sense of normalcy.
Kate has been homeschooling the children because of coronavirus
Since last month, kids all around the world have been out ofschool. And Kate has been doing her best to deal with having all three childrenhome while also balancing royal duties. It's possible that both she and Williamare homeschooling the kids together, but since William's royal role holds moreweight, he might have to stay more focused on the monarchy.
Kate has been homeschooling her children herself; she's always wanted to be as hands-on of a parent as possible and raise her kids with the same family dynamic that she had growing up.
She admitted that she did not tell them about Easter break
William and Kate recently did an interview with BBC, wherethey discussed everything from their mental health initiatives during thepandemic to their home life and trying to keep everything sane. Williamvocalized that he was worried for both his father and his grandparents — PrinceCharles recently recovered from coronavirus.
Kate then said that she's been working on the kids' schooling — but that she hasn't been totally honest with them. "We don't actually tell the children we've actually kept going through the holidays. I feel very mean," Kate revealed to BBC. "There's a pretty strict routine here at home," she added, which explains why she decided not to tell the kids they were off from school for Easter break. If they dropped the new routine for a few days, it might be hard to pick it back up.
Prince Louis just celebrated his second birthday
Kate and William certainly have their hands full with three kids. Prince Louis, the youngest of the children, just celebrated his second birthday on April 23. The family wished him a happy birthday by posting some photos of him playing with paint. There have been rumors that William and Kate might want a fourth child, but with all that's gone in in the family and the world this year, they might be holding off. Still though, it's not too late to suspect that they might eventually grow their family.
Source: Read Full Article