Klaus Littmann, the Swiss artist behind the immense installation For Forest — The Unending Attraction of Nature which took place in Klagenfurt, Austria back in 2019 has accused the London Design Biennial for appropriating his work. More particularly, Littmann is currently expressing his concern over Es Devlin's project for the exhibition at Somerset House entitled Forest for Change which seemingly features the same planning and selection of trees as his public intervention that was situated in an abandoned stadium in Klagenfurt.
Littmann expressed in a statement that "The procedure adopted by Es Devlin for the dislocation and selection of trees is also similar to that one used for 'For Forest.' The internationally known landscape architect Enzo Enea was responsible for determining the trees and designing the mixed forest in the stadium." Littmann apparently wasn't aware that another artist was planning to create a work similar to For Forest. "While other artists are working with trees and there have been several before me, take Joseph Beuys, or Christo, each one of them had their own very individual message and artistic imprint."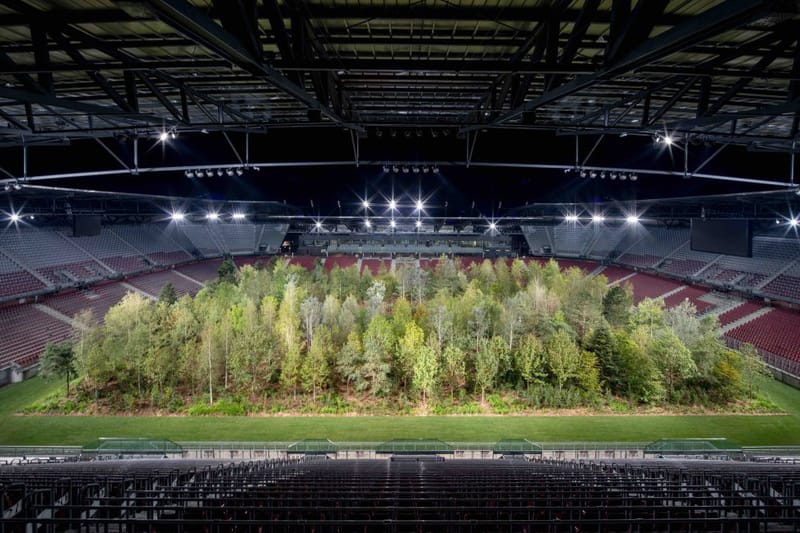 In a press statement, Devlin said that the concept of her project came about after learning the Enlightenment principles which surrounded the creation of Somerset House and forbade the construction of trees into the courtyard. "Of course, the first thing we wanted to do when considering this year's biennale was to counter this attitude of human dominance over nature, by allowing a forest to overtake the entire courtyard," Devlin said.
When Littmann initially found out about Es Devlin's project, he was approached by others asking if it was a collaboration. "I simply cannot leave this misinterpretation to be unchallenged," he said. "If you compare the two images – the visualization of the installation in Somerset House and the image of the temporary art installation in the football stadium in Klagenfurt – you can see the 'Forest for Change' project as an imitation. In addition, the same topics are addressed as with FOR FOREST. Perhaps Es Devlin and her team were inspired by my project. If this is the case, I would have been happy if that had been communicated that way."
Littmann is currently developing a follow-up project of FOR FOREST that will take place during Art Basel in Switzerland. The London Design Biennale is on view through June 27 at Somerset House.
Elsewhere in art, Rashid Johnson recently curated a group exhibition for Hauser & Wirth Southampton.
Somerset House
Strand
London WC2R 1LA
United Kingdom
Source: Read Full Article