Tiger King: Murder, Mayhem and Madness, which debuted in March on Netflix, captivated millions by giving a glimpse into the world of big cat breeding with some very colorful characters. Since then, everyone has been asking questions about Joe Exotic, Carole Baskin, and Jeff Lowe including: How much money they have made? And did Carole kill her husband, Don Lewis?
We may never have an answer to the second question but read on to find out how much each star is worth.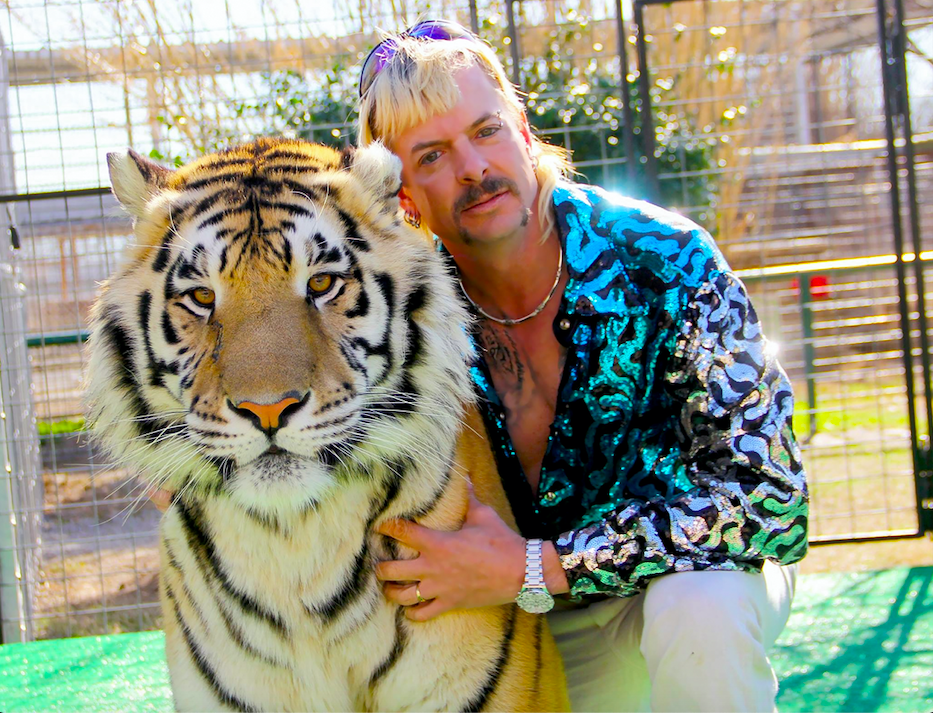 Joseph Maldonado-Passage (aka Joe Exotic)
The documentary's main star Joseph Maldonado-Passage, who goes by the name Joe Exotic, is currently in prison after he was convicted on several counts of animal abuse and a murder-for-hire plot to kill his archnemesis, Baskin.
According to Cosmopolitan, Maldonado-Passage inherited $250,000 from his grandfather and before starting his roadside zoo had a mobile petting zoo. He previously said that he pulled down $23,697 in less than a week running the petting zoo.
Maldonado-Passage's roadside zoo, formerly Garold Wayne Exotic Animal Memorial Park, was named after his deceased brother. The adult admission to the park costs $15 but he made serious money breeding exotic animals. The Daily Beast noted that the zoo owner made "between $1,500 and $10,000 for hybrid cubs."
Over the years, Maldonado-Passage became a big name in the business and reportedly had a net worth of $10 to $15 million, but at one point he was forced into bankruptcy. After his conviction, he filed a discrimination suit "seeking $94 million in damages against the Department of the Interior and the prosecutor in his case."
Jeff Lowe's net worth
Lowe is now the CEO of the zoo Maldonado-Passage used to own. His grandfather founded the Robbin's Brothers Circus so he's been around big cats and other exotic animals all his life.
The now-Wynnewood Exotic Animal Park's website also gives other info. about Lowe including that he worked with Robbie and Evel Knievel, as well as the late musician Prince.
The zoo is home to over 200 tigers and lions. The price of daily admission is $15. Special packages range from $50 to $80 a ticket and VIP tours are $175 per person.
The Cinemaholic reported Lowe's estimated net worth is between $5 million and $10 million.
Carole Baskin's net worth
As for Baskin, she founded Big Cat Rescue in Tampa, Florida, which houses more than 50 exotic cats. The animal right activist emerged as a controversial figure in the docu-series after speculation that she killed her former husband.
Baskin denied that she had anything to do with Lewis' disappearance and disputed some of the claims made in the documentary. Baskin inherited approximately $2 million from Lewis' estate and also sued Maldonado-Passage for $1 million for trademark infringement.
She has said her staff is made up of volunteers and unpaid interns.
But Big Cat Rescue's website mentions paid employees as well stating, "Salaries here are in the 30's to 60's. All sanctuary income, whether it is from tours, donations, or a gift shop, stays in the nonprofit to support its mission. Carole gets none of that money, just her salary like the other employees. She works 60+ hours/week and didn't take a paycheck for the first 20 years of the sanctuary."
Documents obtained by The Sun noted that Baskin and her current husband, Howard, raked in more than $5 million in revenue last year and their organization is worth $13 million.
The Famous Data estimated her net worth to be anywhere between $1 million and $10 million.
Source: Read Full Article