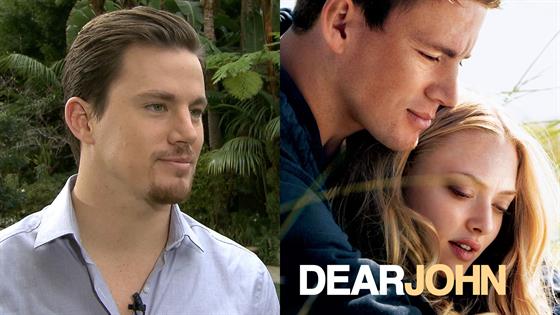 Requisite parenting maneuvers aside, "No" isn't a word Channing Tatum uses all that often.
Practically the poster boy for the mid-2010s acronym YOLO he would sometimes "shower" by jumping off the balcony of the Beverly Hills home he shared with then-wife Jenna Dewan into their pool. He based an entire, hugely successful film franchise off of his past as an exotic dancer and when asked to shoot a decidedly off-color cameo in Seth Rogen's 2013 gross-out comedy, This Is the End, he didn't hesitate.
"All he had to say was 'Danny McBride,' 'leash,' and 'a Mexican wrestling mask,'" he offered as explanation to GQ in 2014. "It was just the most wrong idea I'd ever heard. 'You're Danny McBride's sex slave, you're like his gimp.' And I was like, 'All right, I'm in.'"
It was the same response he gave to a pal half a decade later when they suggested he move past his December split from singer Jessie J by hopping on Raya, Hollywood's ultra-exclusive dating app that allows bold faced names to connect to other luminaries. "A friend suggested Raya and he felt like he had nothing to lose by joining," a source explained to E! News at the time.
And though the father of 6-year-old Everly reunited with the singer for one last refrain of their year-long romance, now that they're done for good, the 40-year-old is back to swiping.
Just two years removed from his nearly 9-year marriage with Dewan, 39, she is a happily engaged enamored new mom and the onetime People's Sexiest Man Alive is hoping for a little magic of his own as he celebrates this milestone birthday. "He would love to be dating someone and is not shy about it," said the source. "He wants to have fun again and he doesn't care if he meets someone online, a set up or just walking down the street."
So, uh, ladies, the line forms to the left.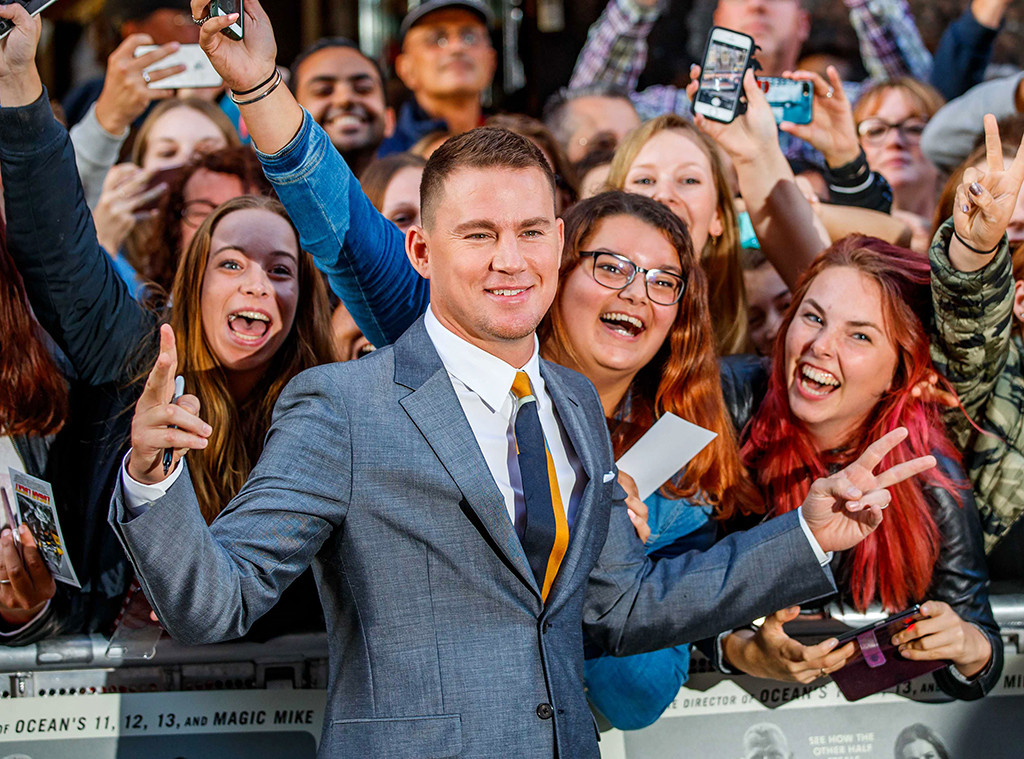 Meeren/EPA/REX/Shutterstock
By his own admission, Tatum wasn't always the one-woman man type.
In his defense, the Mississippi- and Florida-bred former footballer was fresh out of a lengthy romance when he was cast as the bad boy to Dewan's privileged modern dancer in 2006's campy romance Step Up. Just 25, he "was in no way, shape or form looking to get into another relationship," he explained Howard Stern in 2015. "I was like, 'OK, now it's time to play…' I was gonna go and just live the life that you'd think you would probably live if you're an actor in Hollywood. And then I ran smack into Jenna."
His chemistry with the triple threat from Texas, a prom queen and varsity cheerleader who got her start as a backup dancer for Janet Jackson, was naturally off-the-charts, but "it's not just really the dancing," he said. "It's who she is. She really is my counterweight in life."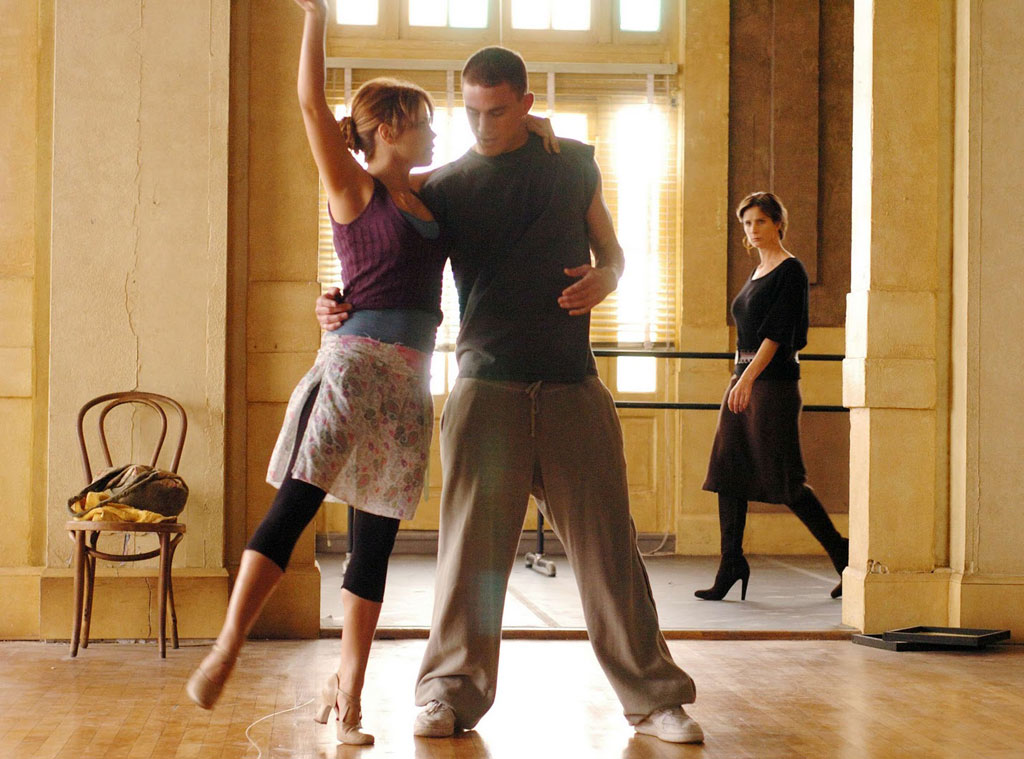 Phillip Caruso/Buena Vista Pictures
He was taken enough with the University of Southern California grad to meet her ultimatum head-on.
"He did this whole thing where he didn't want to be in a relationship, so I was like, 'Look, if you want to date other people and be free that's totally fine,'" she recalled on The Ellen DeGeneres Show in 2017. "'But we're not gonna hang out and watch movies. You've got to figure out what you want because I know I want to be in a relationship with you.'"
A few days and several tequila-laced cocktails later, he showed up at her hotel room door wearing underwear, Ugg boots, a sombrero and his heart on his non-existent sleeve. Recalled Dewan, "He's like, 'Let's do this.'"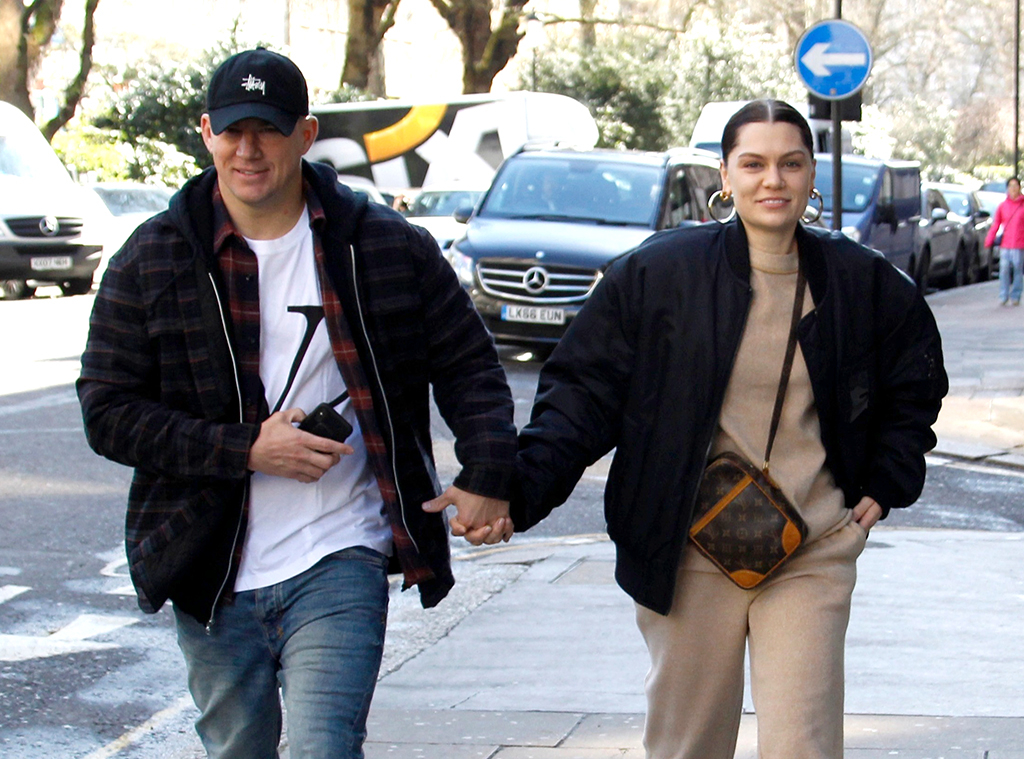 Dean / SplashNews.com
And for more than a year, Tatum seemed to be making beautiful music with the 32-year-old Londoner. A month after an October 2018 photograph launched their flirtation into official couple status "before our relationship was even a thing," as Jessie put it to The Times of London last June, Tatum was publicly applauding her raw confession about her fertility struggles during a concert at the Royal Albert Hall. Crowing to fans about how they were able to witness something special, he effectively confirmed their status, his post a first in a long line of public proclamations of affection.
"The reason we kept it a secret for as long as we could was because we wanted to really enjoy it without it being magnified into something that it wasn't yet," Jessie explained on The Dan Wootton Interview podcast in June.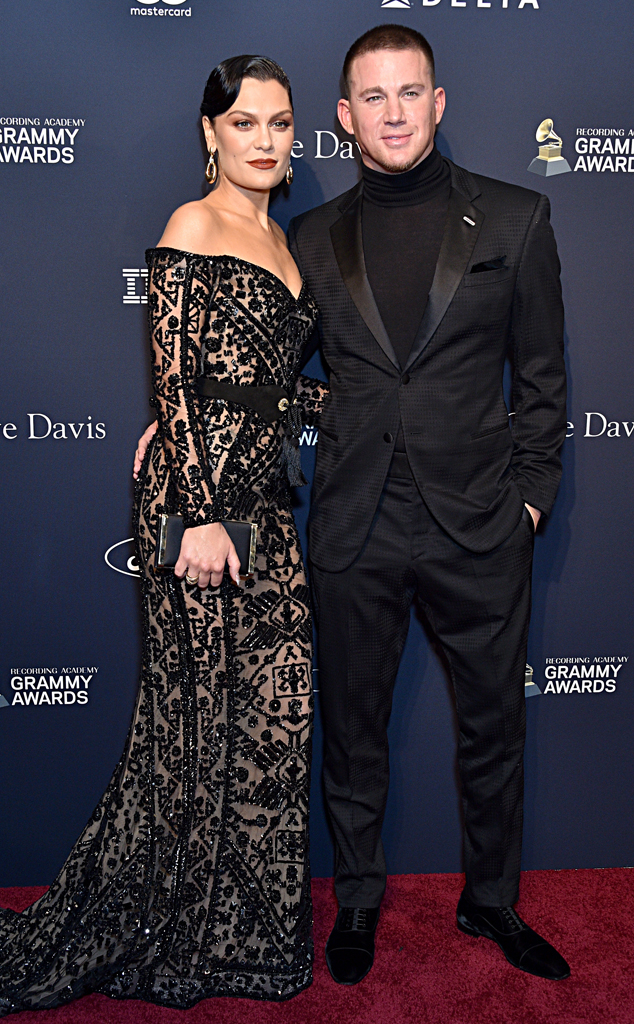 Gregg DeGuire/Getty Images for The Recording Academy
Even though it was clearly something by then, Tatum having made the most of a year off by tagging along to several of her shows, she wasn't about to declare open season on their coupling. "I decide when I want to talk about it and when I don't," she said. "I decide when I want to post about him on Instagram and I don't. If I do it's often a naked picture of him because that's what people want to see."
A girl who knows her audience, she made him pay off a Jenga game bet by posting a mid-shower snap. And between the R-rated Jenga sessions and public praise (he marked her birthday last year by writing, "You have blessed our eyes, our ears, our hearts and our lives. So thank you for just being you. You are so very special,") it appeared they'd struck that ideal balance of depth and levity, enough substance to go the distance with a healthy serving of fun.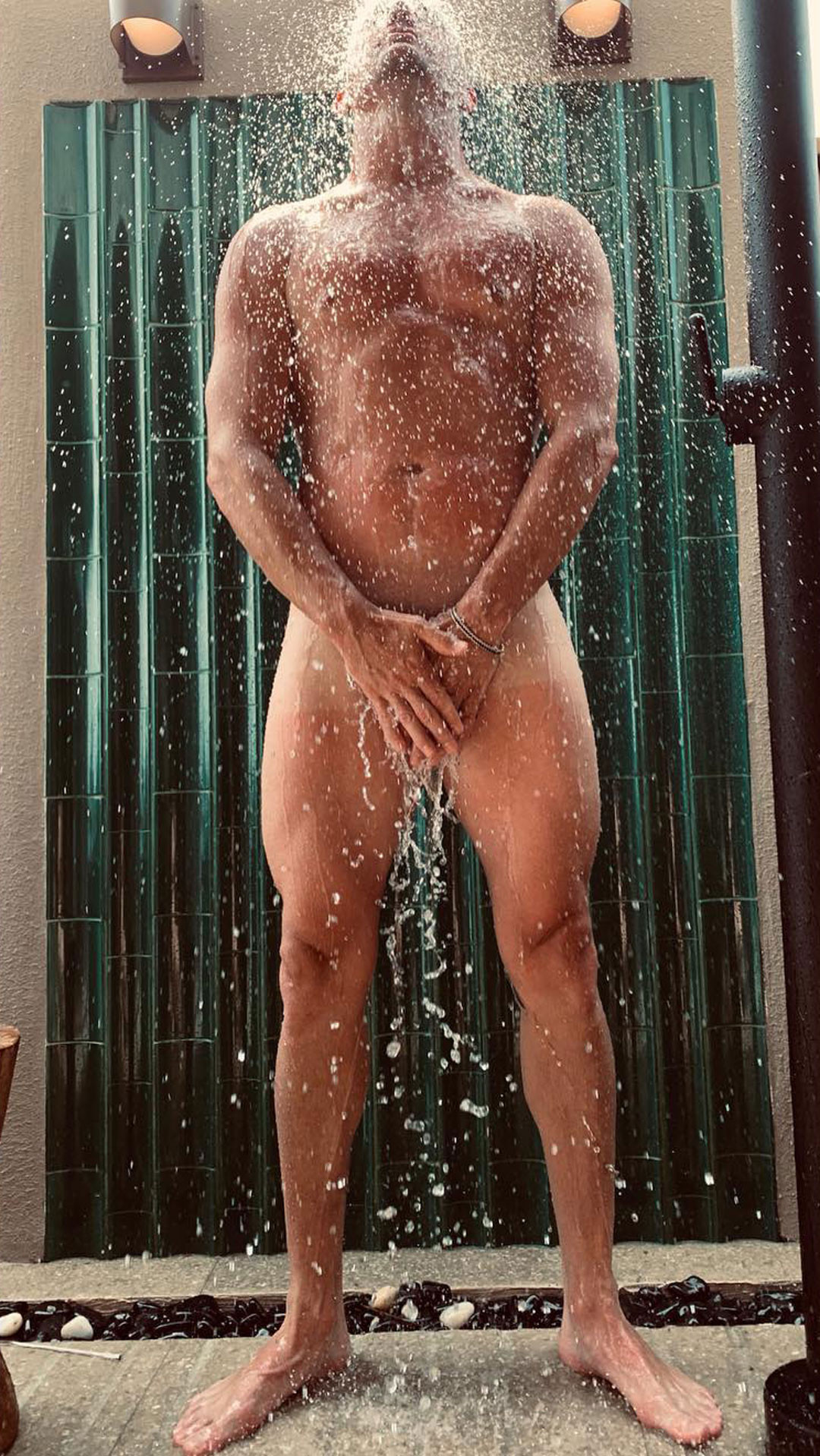 Instagram
"They aren't thinking too much about making a major commitment," a source told E! News as they marked their first anniversary. "They aren't there yet, but they love their life together and what they have. He loves seeing her perform and traveling with her. They have a good thing going."
Ultimately, though, good was not quite enough. Splitting just before Christmas, they were back on by Valentine's Day only to end things once more earlier this month. The fun times had them trying their hardest to make the partnership work, one source told E! News, "but the same issues were still popping up." Eventually, added another, they "realized they were better off as friends."
Which means it's back to the drawing board for Tatum, who, for all his frat boy-like antics (in a 2011 GQ profile he boasted about his fondness for startling pals such as Marlon Wayans with a visit he called a "Spontaneous Home Invasion") is serious when it comes to the business of love.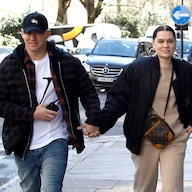 Photos
Channing Tatum & Jessie J: Romance Rewind
Like his relationship with Jessie, his and Dewan's union had its issues. But, somewhat surprisingly for two working actors who look like that, jealousy was not one of them.
"The temptation really isn't, I think, an aspect," he told Stern in 2015. "And I don't really know how to describe that, other than if you keep the line taut between you and your lover, the person you devoted your life to, that doesn't have any room to squeak in."
Besides, as evidenced by Magic Mike, he's had his fill of the bachelor life. "I lived a crazy life before [back in his stripper days]," he said. "I've had long term relationships, then really crazy play in between, and then a long relationship…
"Once I've sort of made the decision [to commit], it doesn't ever really become a thing."
As we were saying ladies, the line forms to the left.
Source: Read Full Article