Grey's Anatomy fans collectively screamed at their televisions when Alex Karev (Justin Chambers) left Jo Wilson (Camilla Luddington). The couple has always appeared strong, showering each other with love and support at every turn. But in Grey's Anatomy Season 16, Episode 16 — titled "Leave a Light On" — Alex abandoned his wife and sent Jo divorce papers in a cowardly letter. Nevertheless, as the season continued, Jo came out the other end. Then recently, showrunner Krista Vernoff revealed why the writers chose to have Jo bounce back so quickly after her split with Alex.
Why did Alex and Jo get divorced on 'Grey's Anatomy'?
In "Leave a Light On," Alex left Jo, Meredith Grey (Ellen Pompeo), Richard Webber (James Picken Jr.), and Miranda Bailey (Chandra Wilson) letters to explain his sudden MIA status. Apparently, Alex reconnected with Izzie Stevens (Katherine Heigl) when reaching out for Meredith's medical license hearing in the 350th episode.
Alex found out Izzie gave birth to twins after using the embryos they made when she got cancer. So Alex — who realized he was still in love with Izzie — decided to pick up and leave Jo behind to raise his children in Kansas. He also sent Jo signed divorce papers along with his shares in Grey Sloan Memorial.
At the end of "Leave a Light On," viewers knew Jo was going to be just fine. Her best friend, Link (Chris Carmack), offered to take her out drinking. But then Maggie (Kelly McCreary) paged Jo for a surgery. She took a deep breath and took her first step forward.
"Whiskey tonight. Today, I am working," Jo said. In response, Link called Jo his hero. Then Jo replied, "Mine too." 
'Grey's Anatomy' Season 16 showrunner discusses Jo's future after Alex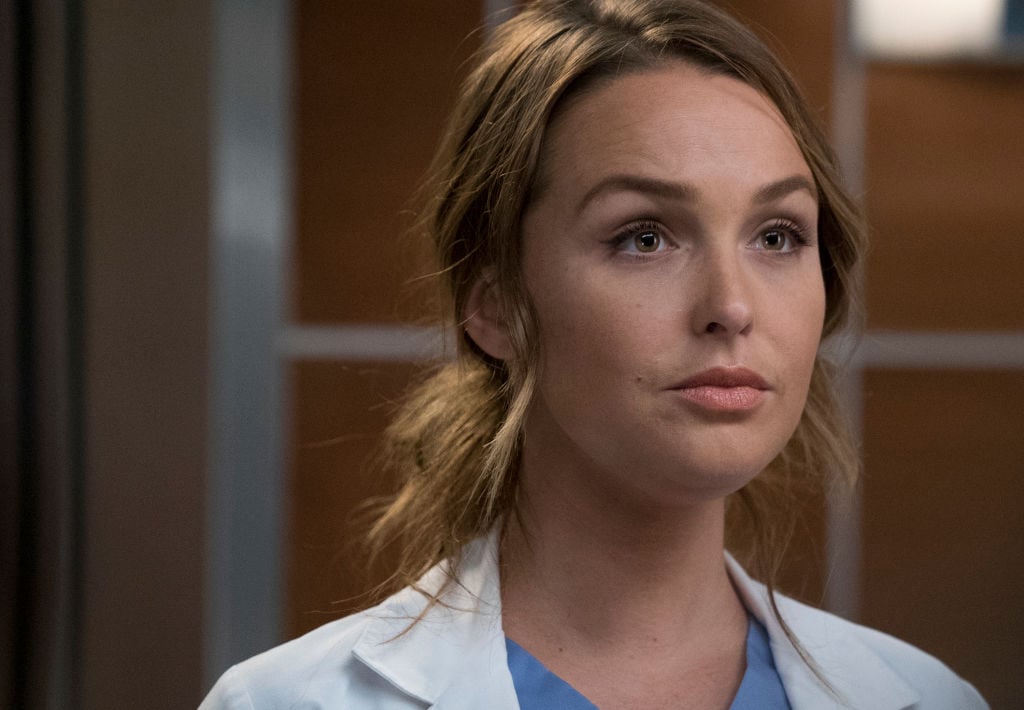 Instead of falling apart, Jo became her own hero on Grey's Anatomy. Of course, it would have been understandable if the character began to spiral. But it seems there's a reason why Jo didn't break after her split with Alex.
When speaking with TVLine after the Grey's Anatomy Season 16 finale, Vernoff opened up about Alex and Jo's breakup. And given Jo just recovered from a mental breakdown after discovering she was a product of rape, the showrunner explained she couldn't put the character through the wringer again.
"I didn't want to put anyone through it," Vernoff said. "[Camilla] had so beautifully gone through many months of very dark storytelling, and I didn't want any of us to watch Jo go into a hole again."
Vernoff also offered some insight into Jo's perspective, noting the uncertainty was far worse than the reality.
"I've had the experience in my life where the pain of not knowing is so much worse than a very painful truth," Vernoff said. "Jo had so many episodes of not knowing [where Alex was] that even though the [eventual] answer was horridly painful, there was really honest relief [in just knowing what was up]."
Vernoff continued: "Getting an answer finally allowed her to strangely feel better than she had when she was just in the dark. Jo had imagined every possible worst-case scenario. And even though one of them came true, just having the information allowed her to move on. It felt like she had done a lot of grieving for the relationship in the weeks prior to receiving that letter."
Now, where is Jo headed when Grey's Anatomy Season 17 returns? On April 9, Vernoff told Variety the original plan for Luddington's character in the final episodes of season 16, which were cut due to the coronavirus (COVID-19) pandemic. But Vernoff still wants to give Jo some fun next season, alongside her new friend and roommate, Levi Schmitt (Jake Borelli).
"What we had planned was a lot of Levi-Jo comedy," Vernoff said. "I feel like Camilla has earned the right to play some lighter story. And it has always been my experience that there is a way to grieve that is dramatic, and there is a way to grieve that is largely comedic, both in life and on television. And we've been leaning into letting her play the comedy. We'll probably stick with that plan moving into Season 17."
Read more: 'Grey's Anatomy': Why Ellen Pompeo Is Happy With Alex and Izzie's Ending
Source: Read Full Article