We're living in an era of extreme '90s nostalgia. Fortunately, reboots, revivals, and reunions are happening all the time. Saved by the Bell is latest series from the era to get a revival, and the first teaser from it has arrived. Watch below, and get a first look at Zack (Mark-Paul Gosselaar) and Kelly's son.
'Saved by the Bell' is coming back
The popular sitcom Saved by the Bell had various iterations. There was Saved by the Bell: The College Years, Saved by the Bell: The New Class, and even the precursor to it all, Good Morning, Miss Bliss. Now, its been decades since any of these characters have come together on screen. But that's all about to change.
News broke in 2019 that Mario Lopez, who portrayed A.C. Slater in the original series, was returning to scripted TV with a revival of Saved by the Bell. Elizabeth Berkley would also reprise her role of Jessie Spano. In 2020, Gosselaar (Zack Morris) and Tiffani Thiessen (Kelly Kapowski) were confirmed for guest appearances.
Zack and Kelly tied the knot in a 1994 special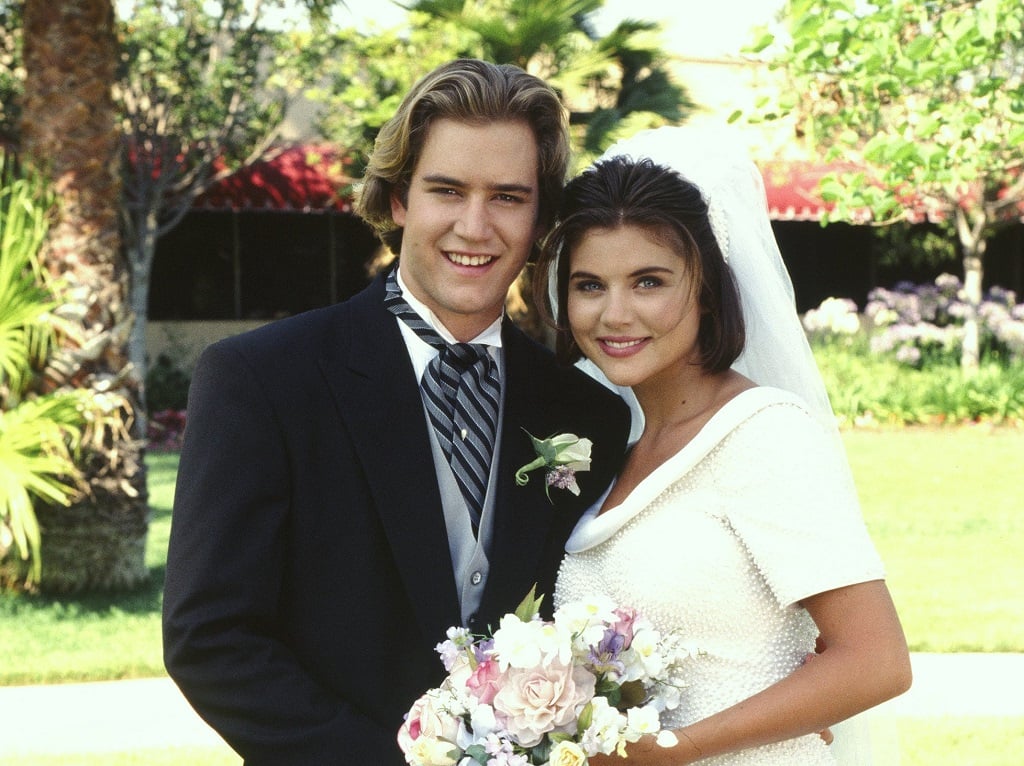 You'd be forgiven for forgetting what happened since we last saw these characters. Zack and Kelly, were an on-again, off-again couple throughout the original series. Their romance was reignited in the spinoff The College Years, which aired for just one season.
The characters were alluded to (and Morris made a cameo appearance) in the other spinoff, The New Class. But the last time we saw Zack and Kelly (aside from a 2015 The Tonight Show sketch) was at their wedding. A 1994 TV movie special saw take a trip to Las Vegas and get married.
The first teaser is here
Filming for the Saved by the Bell revival series began in Jan. 2020. Unfortunately, due to the coronavirus (COVID-19) pandemic, they likely haven't been able to shoot everything that was planned. However, that didn't stop Peacock (NBC's new streaming service) from releasing an official trailer on April 15, 2020.
In the teaser, Slater is back as a gym teacher at his alma mater. He reconnects with Jessie, who exclaims that it's been 30 years since they were teenagers themselves. The "Zack Morris" character, who gets to use his signature time-out move, is Daisy, a new student at Bayside High.
It confirms that Zack and Kelly have a teenage son
In the teaser, Slater has a talk with two students, who apparently got into a food fight over a girl. He can relate, saying that that's what he used to do with his best friend. "It was actually your dad! Over your mom," he told the blond teenager, Mac Morris. That's right — Zack and Kelly's son is now at Bayside.
And the other student also has a parent audiences know: Jamie Spano, the dark-haired kid, is Jessie's son. There's no word yet on who his dad is. Regardless, it looks as though there is going to be a quite a reunion when Saved by the Bell comes to Peacock later this year.
Source: Read Full Article