On April 20, The Bachelor Presents: Listen to Your Heart introduced three new women to the cast. However, it seems the additions couldn't shake up the established relationships on the ABC reality series. So who went home on The Bachelor: Listen to Your Heart Week 2? It's the calm before the storm as the first performances of the season start next Monday.
[Spoiler alert: The Bachelor: Listen to Your Heart Week 2.]
'The Bachelor: Listen to Your Heart' Week 2 introduces three new women
In The Bachelor: Listen to Your Heart Week 2, fans are introduced to three new women — Natascha, Ruby, and Mariana. That said, only one really makes an impression on viewers at home.
At the start of the episode, Jamie and Trevor receive a date card and sing together at the Venice Beach boardwalk. The date is a far cry from the Capitol Records date with Ryan. But they collect some tips and seem to have a good time. Meanwhile, the producers conveniently bring in Natascha, who knows Trevor's ex-girlfriend and accuses the musician of cheating.
When Jamie and Trevor return from their date, Natascha pulls Trevor aside and confronts him about cheating. He admits to emotionally cheating on his ex. Later, Trevor tells Jamie, revealing his former girlfriend found out after finding text messages. In the end, Jamie forgives Trevor and says she wants to trust the man in front of her. But she won't be comfortable in their relationship until she receives his rose.
Sparks fly between Chris and Bri
Finally, The Bachelor: Listen to Your Heart delivers a date card for Bri and Chris. The two musicians hit it off in the first week and have been going strong ever since. Now, will some one-on-one time bring the couple even closer together? The answer is yes.
Bri and Chris head over to Guitar Center, which doesn't sound romantic. But the pair make up for it — sort of. After a few awkward moments — like uncomfortably singing about the rose ceremony — Bri opens up about her past engagement.
The singer reveals she was engaged about a year ago. However, her former fiancé broke up with her while she was shopping for her wedding dress. It seems Bri is scared, noting people can be "so cruel." But even so, she's falling in love with Chris. He reciprocates her feelings.
Things get complicated for Sheridan, Julia, and Brandon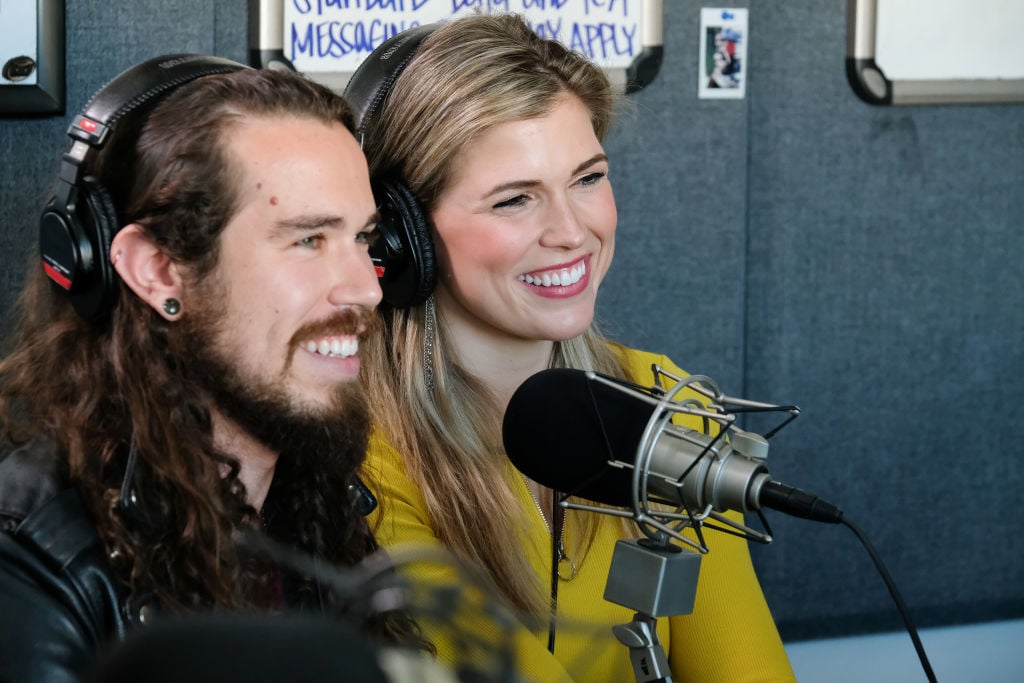 Sheridan and Julia receive the next date card and head to Valentine in the Morning on iHeartRadio for an interview. They seem to have a good time. But later at the Bachelor mansion, Julia admits she wants to keep things open because she's still talking with Brandon.
Meanwhile, Brandon goes on a date with Savannah. They go to a jazz club and meet an old married couple. Savannah seems to be into the whole thing. But at this point, viewers aren't sure how Brandon feels. And aside from his connections with Savannah and Julia, Brandon also has something going with Mel. But finally, choices are made at The Bachelor: Listen to Your Heart rose ceremony.
Who was sent home on 'The Bachelor: Listen to Your Heart' Week 2 on April 20?
When the elimination ceremony begins, host Chris Harrison has a few words. He says real relationships are being formed, which makes the decision even harder. Nevertheless, three women will be going home tonight. So who was eliminated from The Bachelor: Listen to Your Heart in week 2? Here's what went down.
To no one's surprise, Chris chooses Bri. Meanwhile, Trevor picks Jamie. Ryan also keeps Natascha around. Then two relationships we have yet to see — Gabe and Ruby as well as Danny and Bekah — make it through to the third week.
Finally, we're down to the wire. Will Brandon choose Savannah, Julia, or Mel? In the end, he picks Savannah. But Sheridan swoops in and gives his rose to Julia. That said, this love square isn't over yet. After the rose ceremony, Julia reveals Brandon pulled her aside and told her they can still "figure this out," despite handing out his rose to Savannah.
Nevertheless, Mel, Mariana, and Cheyenne are sent home. But stay tuned. The Bachelor: Listen to Your Heart continues on April 27. And according to Harrison, everything will change as the music artists will finally perform and be judged based on their artistic and romantic compatibility.
Read more: 'The Bachelor Presents: Listen to Your Heart': All the Spoilers So Far, Including Who Wins the Season
Source: Read Full Article