The ex-girlfriend of a Melbourne woman who was allegedly murdered by her boyfriend has told a court she saw a body in a bathtub almost six months before police discovered the remains.
Sarah Gatt, a 40-year-old mother of four, went missing in April 2017. Police found her remains in her Kensington flat on January 3, 2018.
Sarah Gatt was found dead in her Kensington bathtub in January 2018.Credit:Victoria Police
Police allege Ms Gatt's then-partner, Andrew Baker, 53, murdered her some time between April 19 and April 23, 2017. Mr Baker is this week facing a hearing in Melbourne Magistrates Court that will determine whether he stands trial.
Over Monday and Tuesday, Leona Rei-Paku told the court she was in a relationship with Ms Gatt after the pair met in 2016. Ms Gatt continued seeing Mr Baker while in the relationship with the other woman.
The women's relationship was marred by drug use and reports of domestic violence, and Ms Gatt ended it to be with Mr Baker.
Ms Rei-Paku told police she bumped into Mr Baker and his friend, Justin, in mid-July 2017 – about two months after Ms Gatt's disappearance – at a shelter for the homeless and asked them "Where's my darling?".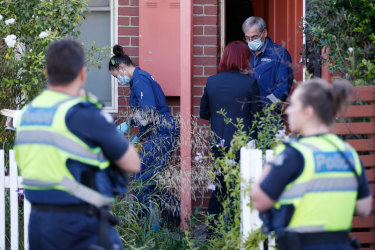 Police at Sarah Gatt's home after her body was discovered in January 2018.Credit:Darrian Traynor
She said the men told her they had been staying at Ms Gatt's home for four weeks and invited her there. Ms Rei-Paku said that while she was on a tram en route to the flat, Mr Baker told her there was a body in the bathtub.
When she arrived at the flat, Mr Baker encouraged her to go upstairs and look at the body, Ms Rei-Paku told police.
"There was a kind of sheet of something. I lifted the sheet up to have a look and there was a kind of foot or something sticking up," Ms Rei-Paku said in her statement.
"He [Mr Baker] goes, 'See how it's sort of black', and he pulled the sheet right back.
"I was like, 'Eww.' I said, 'F—, I don't want nothing to do with this.'"
The ex-girlfriend told police Mr Baker said he planned to "throw out" the body, and that she left the flat.
"I don't know if the body was real or not. It played on my mind a bit," she said.
Sarah GattCredit:Facebook.
On Tuesday, Ms Rei-Paku told the court she was scared when she heard the men speak about the body. She said the pair told her they initially thought the remains were hers. At no point did either man say it was Ms Gatt's body.
"I didn't know what to expect … I just wanted to know where she was," Ms Rei-Paku said.
But she admitted that despite seeing the body and knowing her former girlfriend was missing, she didn't suspect it was Ms Gatt. Ms Rei-Paku was "pretty messed up on drugs" at the time and was mourning the recent deaths of her father and a brother-in-law.
Ms Rei-Paku said she didn't tell anyone about what she saw until she was arrested by police months later.
She said she confronted Mr Baker two days after seeing the body but admitted that was over a financial dispute, and that she left when Justin threatened her with a cricket bat.
Mr Baker is also accused of siphoning Ms Gatt's Centrelink benefits into his own account, and Ms Rei-Paku admitted she had claimed to be her former girlfriend in order to receive benefits. She did this because she "wanted to find out what was going on with my benefits".
Mr Baker's hearing continues on Wednesday.
Start your day informed
Our Morning Edition newsletter is a curated guide to the most important and interesting stories, analysis and insights. Sign up here.
Most Viewed in National
From our partners
Source: Read Full Article